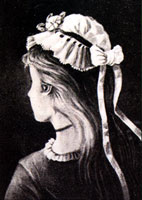 Its a trendy young girl or an old woman with face etched with lines - seeing the picture - my mind keeps changing opinions .Optical illusions are pieces of art that have never seized to amaze me.
Contrary to the popular saying that 'seeing in believing" they make us realize how looks can be deceiving. Stimulated by visual stimuli, our brain is a creative artist that has the propensity to develop a picture that is influenced by our experiences or pre conceived notions.
Optical illusions teach us to look beyond what is perceived by our eye and develop a deeper insight. To be able to see more than one perspective encourages a positive and optimistic approach to problem solving and critical thinking in every day life experiences whether they are at home, work place or environment. Very often our vision is obscured by our expectations and interests and we tend to observe people through the spectacles of our fixed ideas. If our outlook is positive we will see the glass half full instead of being half empty.
I whole heartedly believe in this quote of Winston Churchill.
"A pessimist sees the difficulty in every opportunity ; an opportunist see the opportunity in every difficulty."